Back to school is around the corner and it's always nice to have a variety of fun ice breaker activities for the first week back to school in addition to your regular curriculum. Here are a few of my favorite activities to use with ESL learners of various skill levels from newcomers to intermediate students.
GET STUDENTS WARMED UP and break the ice WITH CHARADES cards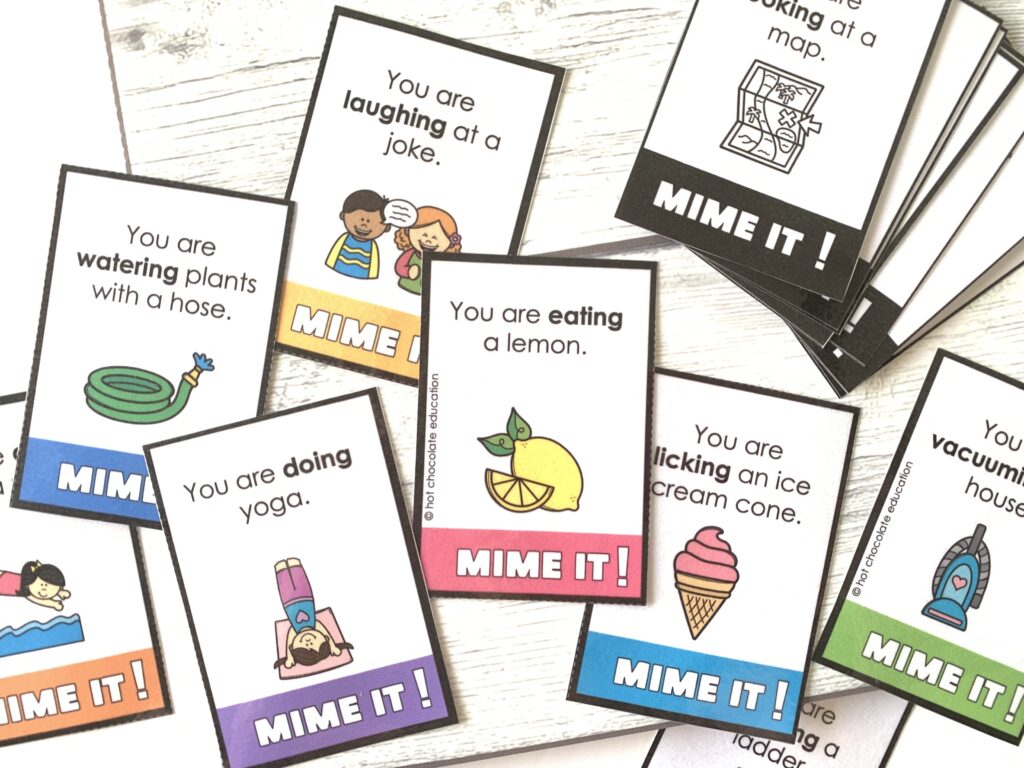 VERB CHARADES is a great way to get to brainstorm vocabulary, verbs, sentence structure as well as outside of the box thinking. The best part of an activity like this is that it involves the entire class and students can be as active or passive as they want during the game depend on their comfort level with English and also with their classmates. This classic version works great with literate students ages approximately 6-10 years old. Another great feature of the game is that each verb is illustrated so that students have a clear idea of the verb they are acting out. If your students enjoy this type of game, click here to see some other seasonal/holiday sets I've created to use throughout the year.
You can take a closer look at ALL CHARADES GAMES here.
How TO PLAY WITHOUT PURCHASING a CARD SET
First, write down a list of simple action verbs or verb phrases
Second, cut out each verb and have students draw a verb from the pile when it's their turn.
Third, one student will act out the verb on the card while other students try to guess the verb!
Lastly, be ready for lots of laughter -making this game the perfect ice breaker that students love.
CREATE-A-PROFILE - VISUAL INTRODUCTION WORKSHEET for back to school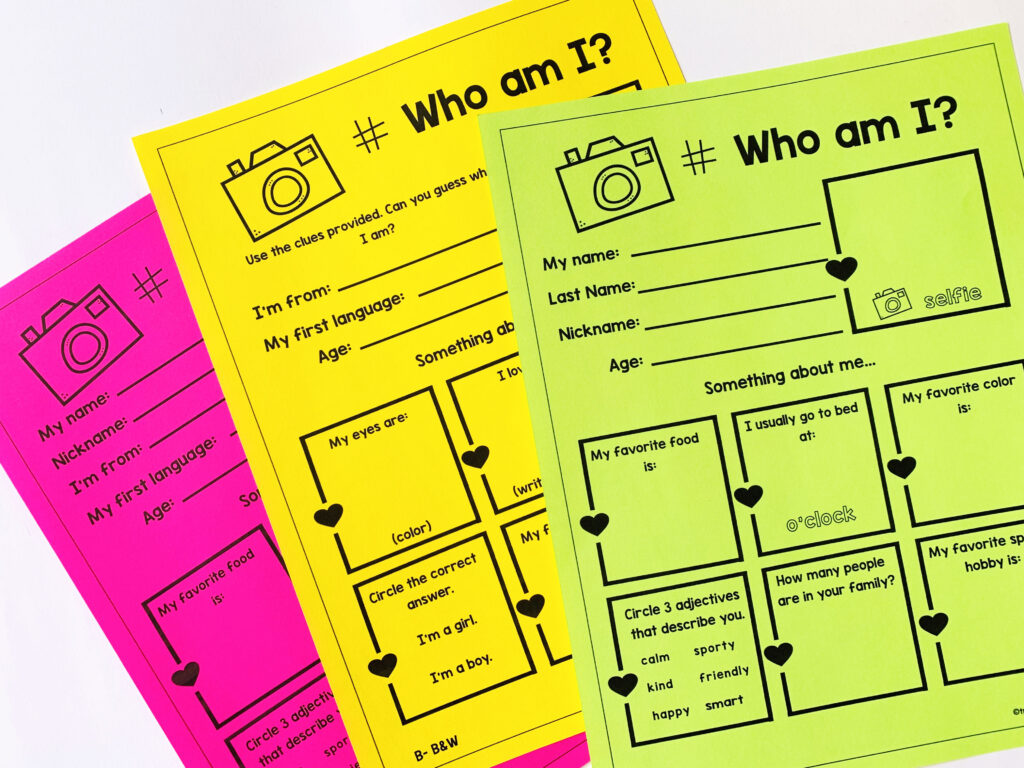 An equally important way to break the ice with newcomers is to use a VISUAL INTRODUCTION PROFILE WORKSHEET instead of putting students under pressure to give an oral introduction. Since many newcomers are not ready to verbally introduce themselves in L2 for an extended period, this type of worksheet puts students at ease. It is differentiated for various language skill levels and can be used as a bulletin board display.
It is never easy for students with limited language skills to verbally express themselves during the first week of school. This activity is wonderful for ESL classes where communication is limited and your aim is for your students to connect and feel comfortable with a minimal speaking burden. Since your students may be from all over the world it can also be a wonderful way to connect students coming from similar places or find classmates with things in common.
SPEAKING JAR for back to school (and all year)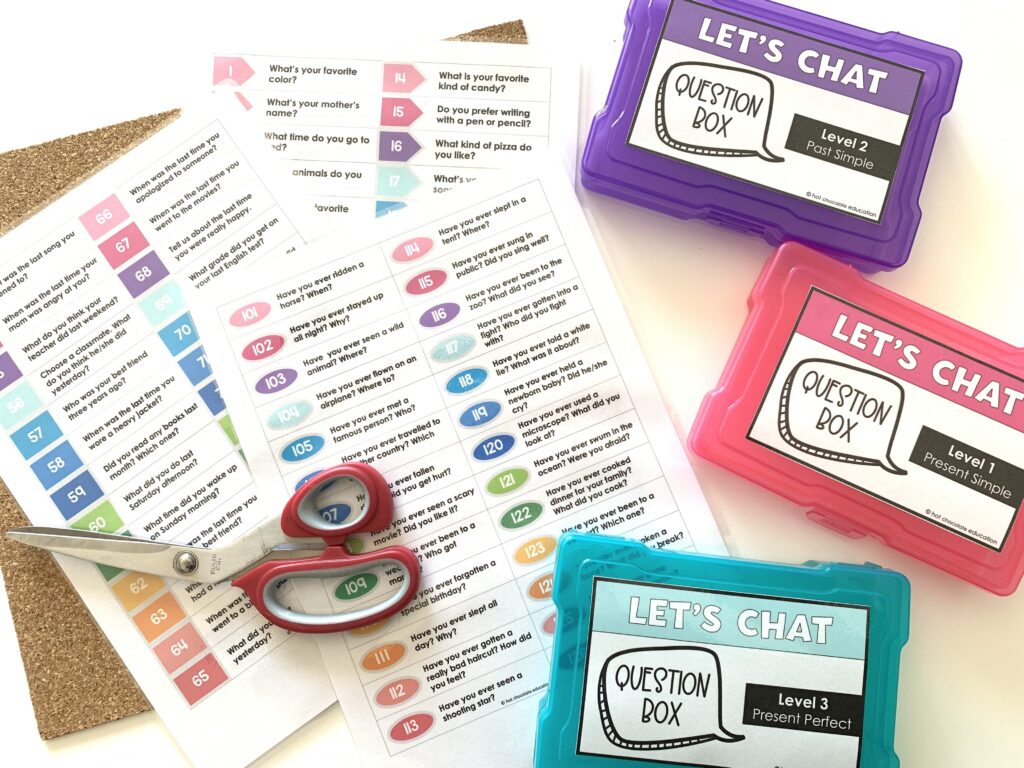 What's included
Grab a set of question cards HERE to practice speaking with your students. These cards are also available to practice seasonal vocabulary
BACK TO SCHOOL GAMES and ACTIVITIES BUNDLE
If you don't know where to start, this BACK TO SCHOOL Bundle has everything you need for the first week of school.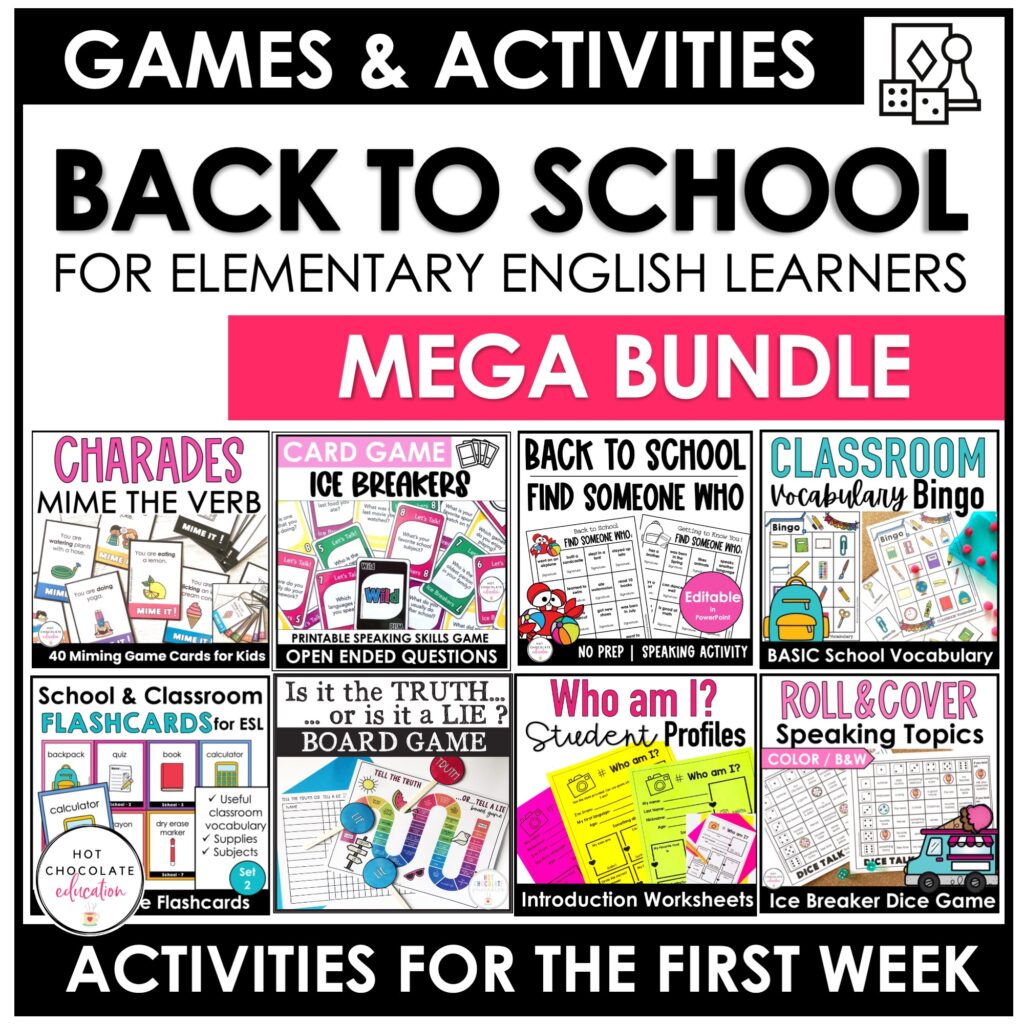 Who am I: Student Profile Worksheet
Truth or Lie: Speaking Game
Ice Breaker Questions : Card Game
Find Someone Who
Charades (Mime the Verb)
Roll and Cover (Speaking Topics)
PRESENT TENSE REVIEW ESCAPE ROOM for back to school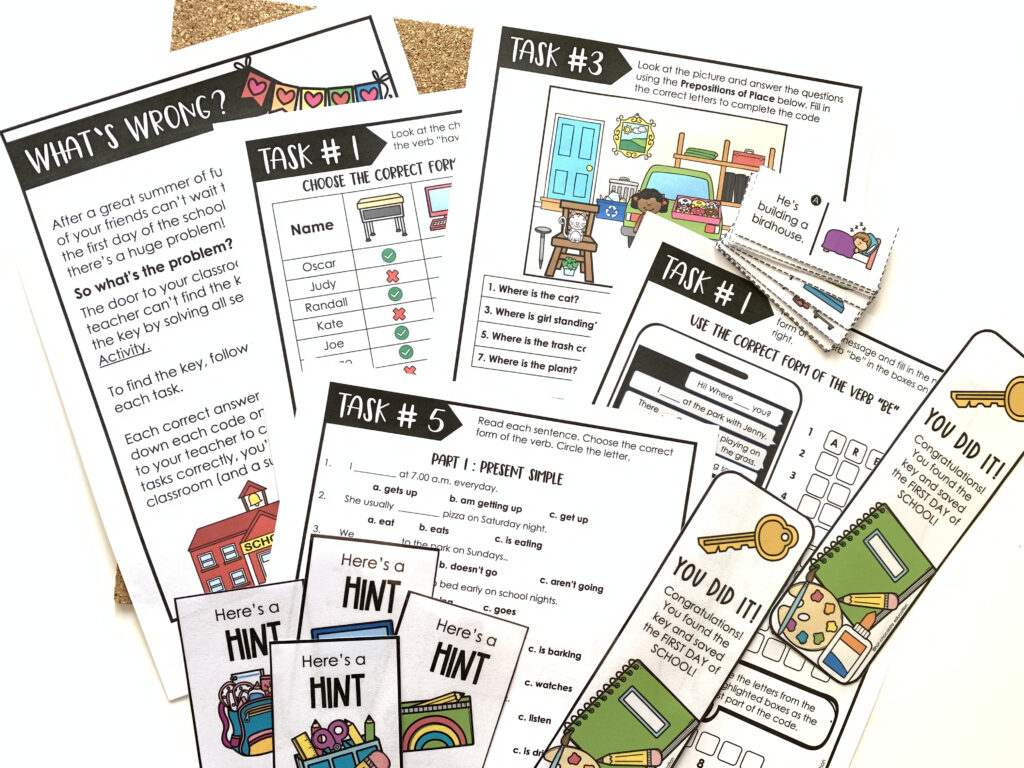 Students with a good grasp of using the present tense, are the perfect candidates for this BACK TO SCHOOL ESCAPE ROOM .
This engaging Back to School Escape activity reviews Present Simple & Continuous Verb Tenses, Prepositions of Place, Subject Pronouns & Classroom Vocabulary. Your students will participate in the story of the lost classroom key. By solving each of the 7 different tasks, they will find the location of the missing key and receive prizes at the end! (printable bookmarks or homework passes).
You can use this grammar review activity can be used at anytime throughout the year! Works great in small groups.
Students will complete 7 tasks:
Present Simple Verbs: be & have
Classroom Vocabulary - Inferencing
Prepositions of Place - questions about the scene
Present Continuous: Action Verb Domino Game
Present Simple & Present Continuous
Word order in sentences & questions
Subject Pronouns
Also included: (Color and B&W of each page is included)
Teacher Answer Sheets
Student Answer Sheet
Hint Cards
Prizes: Bookmarks & Homework Passes
Step by Step instructions
IN CONCLUSION
Spice up your lessons without breaking the bank, students love these simple way practice their language skills. In fact, I always try to incorporate 1-2 different learning games into each of my weekly lessons. If you see students on a daily basis, it's also nice to create a "game day" where students know that the lesson will be lots of fun" thus engaging and stimulating them.
Check out all of my BACK TO SCHOOL activities by following this link.
Interested in learning more about SENTENCE BUILDING ESCAPE ROOMS ? for ESL click here.
---

Happy teaching! Brooke